Girl Accessories Favorites
Girl Accessories Monthly Favorites
These are the Girl Accessories that I am loving this month.  You will find a list below and a brief description.  For some of the products, I will do either a review, swatch or a tutorial on them.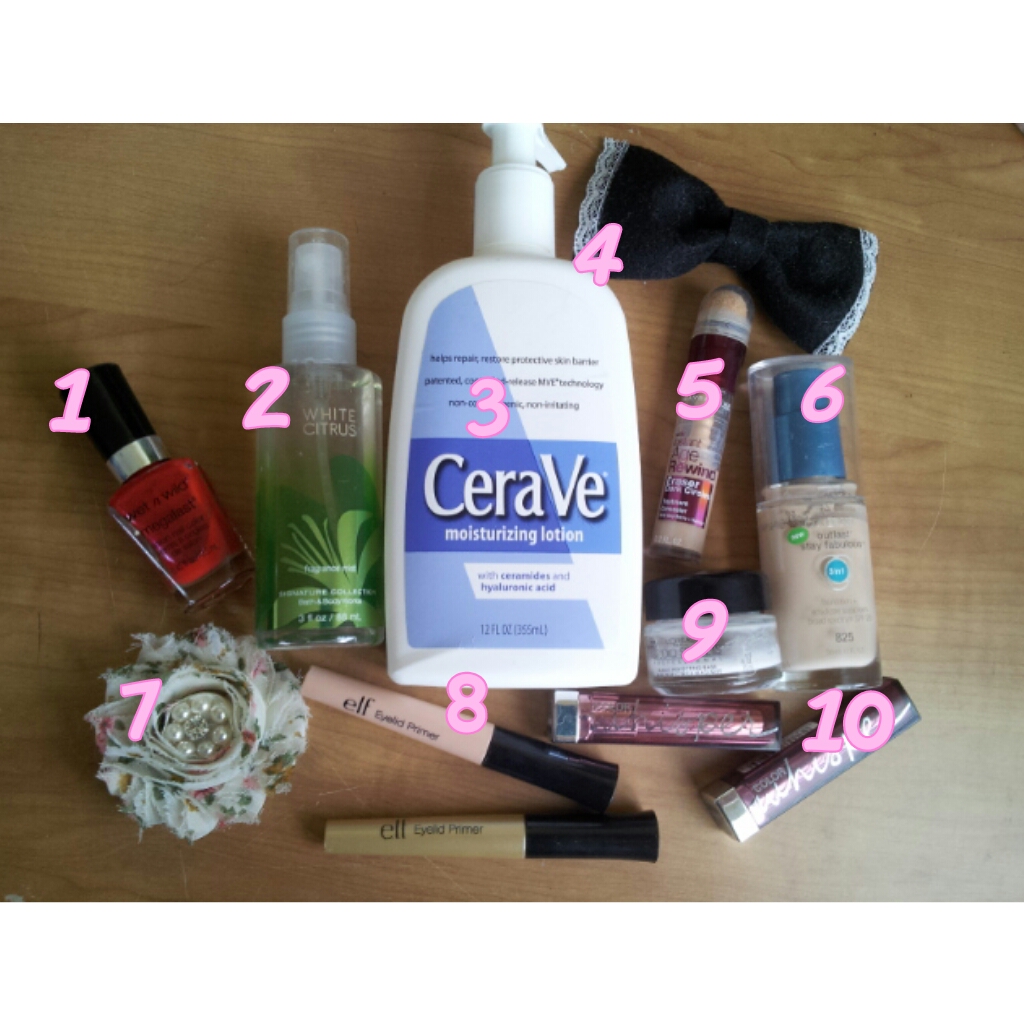 1)  Wet n Wild  Megalast Salon nail color in "I Red a Good Book".  I am wearing it right now, I cannot get enough of this color.  It is a good staple bright red color…a simply must have essential red.  The formulation is a step up from the regular Wet n Wild formula, the brush I love…it's wider with rounded edges, great for easy and fast application.
2)  Bath & Bodyworks "White Citrus" Frangrance body mist.  It is a perfect summery scent….a bit of citrus and sweet mixed together… a very light and clean smell.  I got the lotion in my purse to layer on the scent and it never is too much….just enough.  My family is very easily bothered by fragrance and this one never overwhelms them.  Family approved!
3)  Cera Ve Moisturizing Lotion.  Great lightweight moisturizer especially for summer.
4)  DIY Hair Bows.  Crazy for bows,  so I made bows this summer and will do a tutorial in the near future.
5)  Maybelline Instant Age Rewind Dark Circle Eraser Treatment Concealer.  Just amazing concealer, last all day and it never creases….it's is amazing!  Best ever!
6)  Covergirl Outlast 3 in 1 Foundation in shade 825.  I think I found my new Foundation!!!  Previous favorites were Revlon Colorstay (too heavy for summer) and Revlon Photo Ready(too shiny for summer).  My all time favorite…Estee Lauder Double wear was just too expensive, plus I was never happy with the shade, it was just too light or dark.
7)  DIY Flower Hairpins.  Also made these…..tutorial coming soon.  They were so easy to put together.
8)  ELF Eyelid Primer . These are the one dollar eyelid primers and they really work…enough said!
9)  L'oreal Studio Secrets Magic Perfecting Base.  Magic is right and it does what it says it does…it smoothes out your skin to a nice finish and mattifies your shine.  It's really works.
10) Maybelline Color Whispers in "Plum Prospect", a berry pink color and "Lust for Blush" which is a sheer soft mauve color.  Loved these, they're light and very moist on your lips. Love.