Girl Accessories Favorites
Girl Accessories Favorites
 These are products that I love, was inspired by and just got a lot of use of.  They are girl accessories' that I could not have made it through the month without.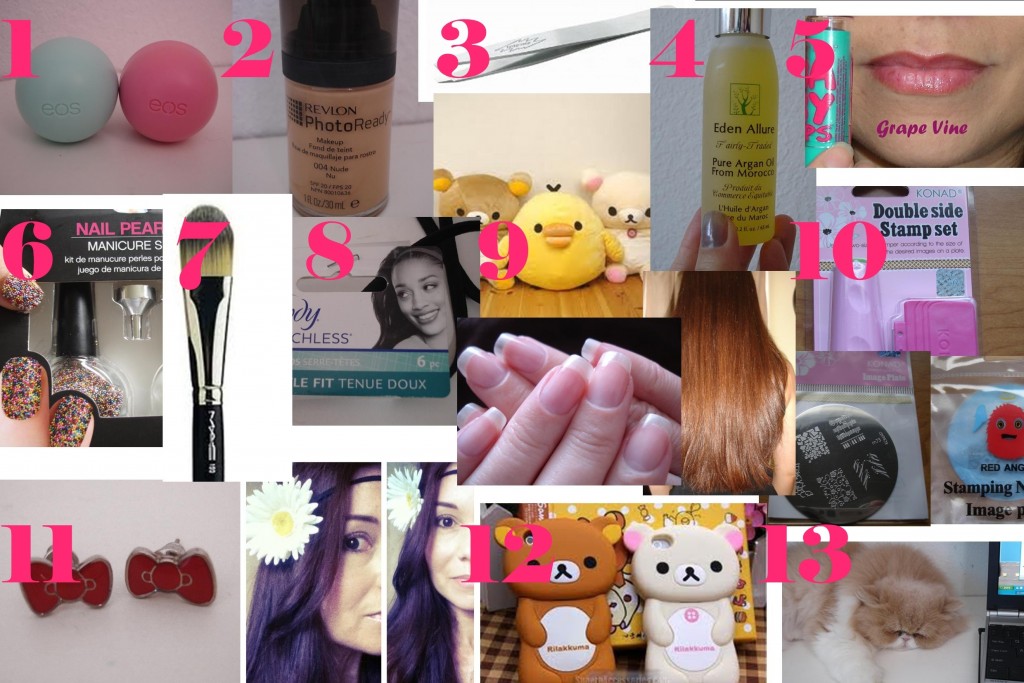 1)  For summer, I've been loving lipbalms, these are my favorite EOS lip balm flavors…Strawberry and Mint.  The mint I use before bed!!! Strawberry…anytime! Love!
2)  I found an alternative lighter foundation (lighter than my Revlon colorstay and Estee Lauder Double wear)and more coverage than BB creams…it's Revlon Photo Ready!!!!
3)  Tweezerman tweezer is my everyday lifesaver…the best girl accessory ever.  One of my all time, must-have beauty product.  Tweezerman is the best!
4)  Eden Allure Argan Oil…..this is my best-buy, multi-purpose product.  I use on my hair and THE best and ONLY thing I use for my nails and cuticles!!!
5)  Another lip balm favorite…Maybelline Babylips.  I love all the Maybelline Babylips tinted lipbalms, but my fave is grapevine.
6)  Something fun and new for Nail Art so easy to do…Nail Pearls Manicure.
7)  My staple foundation brush that I keep going back to…..MAC Brush 190.
8)  Goody Ouchless Stretchy Headbands 6 Pack…..I can't say how much I love how many options I got using these headbands…see my DIY Headband tutorials.  I'm still not done with all my DIY ideas, using these headbands.Keep a look out for more fun ideas.
9)  Anything Rilakkuma, Korilakkuma and Kiiroitori I love!!! Plushies!!!  They are the cutest.  Like I said before, move over Hello Kitty.
10)  Konad Nail Stamp Set, Konad Stamp Plates & Red Angel Stamp Plates…so much fun creating so many different nail looks with these products!!!! All I will say is endless!
11)  Bow Earrings!  All and any bow earrings, I love…these are Hello Kitty Bows!!!!
12)  Rilakkuma and Korillakuma Cell Phone Case…so cute!!!
13)  My hard-working sidekick, Mimi kitty…..always contributing where she is needed! Girl accessories favorite, every month!