The Clarisonic Cleaning System
The Clarisonic Cleaning System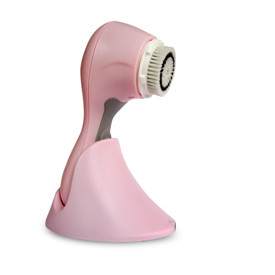 The Clarisonic Cleaning System cleans your skin 6x more than any manual cleaning.  It cleanses your skin and pores of all oil, makeup, and dirt.  Cleaning the buildup of all things on your skin's surface can improve the appearance and texture of your skin.  The Clarisonic Cleaning System uses a sonic frequency of 300 movements per second to gently clean all impurities out of your pores.   It's better than a manual cleaning as it cleans out 2x more dirt and oil, and cleans out 6x more makeup.
The Clarisonic Cleaning System cleans and exfoliates your skin and prepares your skin for your skin treatments and moisturizers so they can deeply penetrate and do what their intended and meant to do.  It can absorb all the vitamins and nutrients in all the expensive creams and potions we spend a lot of money on.  The exfoliation reduces the appearance of fine lines, wrinkles and pores and improves your skin tone.
The Clarisonic is also great for oily, blemish prone skin.  It help to reduce oil in oily areas and reduces dry patches and blemishes, with all that deep cleaning.
It is recommended  and gentle enough to be used twice a day.  It comes with a base holder which is plugged in then the cordless brush, which is easy to hold, handle, and of course rechargeble.  You can use it for up to 30 minutes at a time without recharging it.  Brush heads are replaceable and there are various types such as sensitive, normal, delicate, deep pore and body.  It's waterproof and you can take it in the shower to use.
The Clarisonic Cleaning System and how it is used
First, you apply water to your face and the clarisonic brush.  Then apply cleanser to your brush.  Avoiding the eye area, start at the forehead and use small circular motion without using any pressure.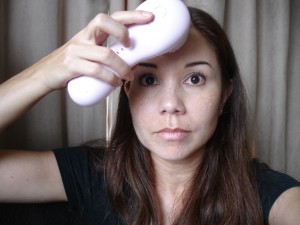 After 20 seconds on the forehead, the clarisonic will beep and you move down between your eyes onto your nose and chin area for the next 20 seconds.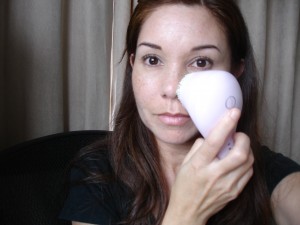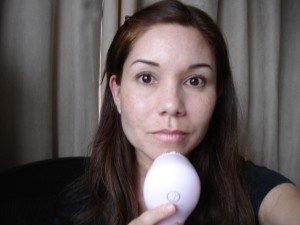 Next, go to the cheeks for 10 seconds on each side.  So in 60 seconds you are done.  Your skin is the cleanest it's ever been!  Your skin will thank you for it!!!!