Fall/Winter OPI San Francisco Collection
August 7, 2013 is the official national release of the new Fall/Winter OPI Sand Francisco Collection.  Here's a peek of the collection.  I can't wait to try them!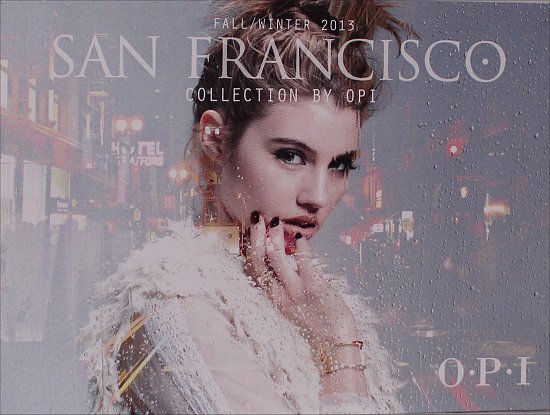 There are 15 new nail polishes in this collection: 6 shimmers, 6 cremes, and 3 liquid sand, which are textured polish.   
Cremes
Incognito in Salsalito
In the Cable Car-Poole Lane
Lost on Lombard*
First Date at the Golden Gate
Keeping Suzi At Bay*
A-Piers To Be a Tan
Shimmers
Dining Al Frisco
Haven't the Foggiest
Peace, Love, & OPI*
Muir, Muir on the Wall*
Embarca-Dave Ya
I Knead Sour-Dough
Liquids Sands
It's All San Andrea's Fault*
Wharf! Wharf! Wharf!
Alcatraz….Rocks!*
* Favorites that I want to try!!