Girl Accessories Monthly Favorites
 Girl Accessories
Each month Girl Accessories will be sharing my monthly favorites.  These are things that I love, have been enjoying,  and are inspired by.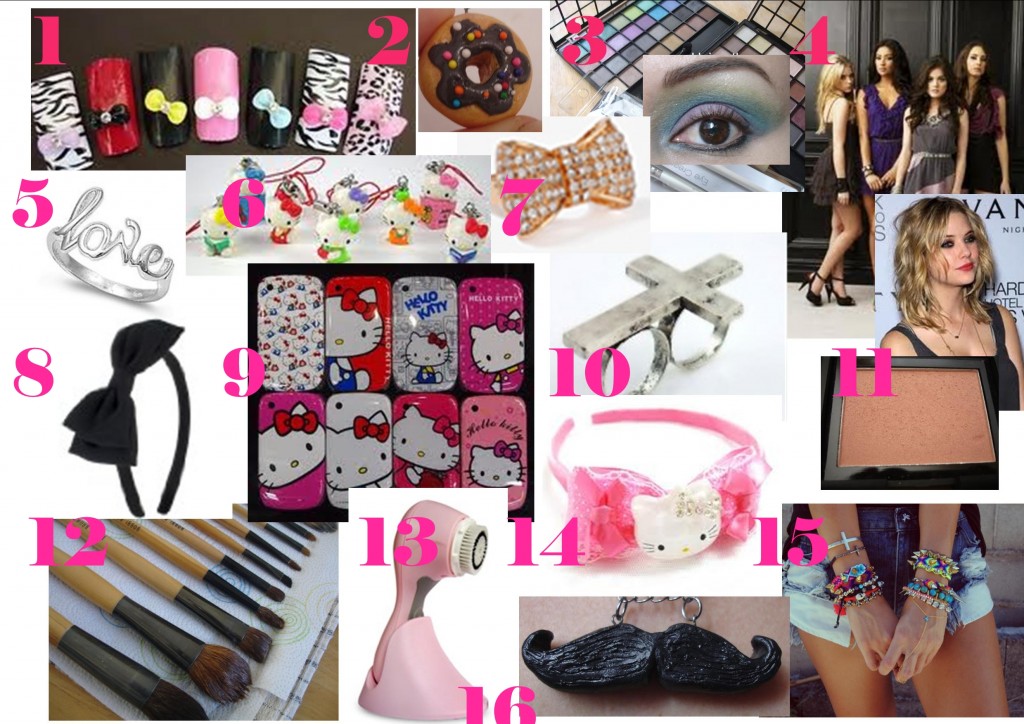 1) Nail Art….animal print and bows with rhinestones.
2) Food Novelty charms  by Girl Accessories.
3) E.L.F. Cosmetics….I have been obsessed with all things elf.
4) Pretty Little Liars… The clothes, hairstyles, accessories & more.
5) LOVE the Love Ring!
6) Kawaii Charms…Hello Kitty phone charms.
7) BOWS….I love bows, this bow ring is from Forever21.
8) Headbands with Bows  Bows, Bows, Bows… everywhere!
9) Phone Cases.  My fave….Hello Kitty!
10) Sideway Cross Ring  So cool.
11) E.L.F. Candid Coral Blush! Favorite color of the month, used pratically everyday!
12) Bobbi Brown Brushes   My best friends….tried and true..never fails me.
13) Clarisonic Cleaning System     I've been using it consistently and loving my skin!
14) Hello Kitty Headband   So fun and cute…love!
15) ARM CANDY! Picture from High heel Suicide….great style.
16) Mustache Jewelry!!!! Ha ha…Lol! FUN!
Girl Accessories by Iwa