Making Your Manicure Last
Tips to Making Your Manicure Last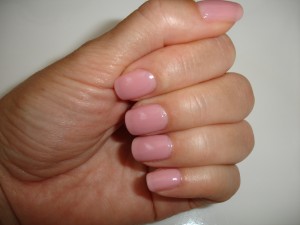 1.  Always use a base coat and a top coat.
2.  Always use a base coat and a top coat where it is intended to be used, meaning never use a top coat as a base coat and vice-versa.  A base coat is made specifically to protect your nail by creating a barrier between your nails and the nail polishes.  Also it is formulated to grab and hold nail color for a long lasting adhesion.
3.  Before applying  your base coat on nails, make sure nail is oil and moisture free.  You can do this with a quick swipe of nail polish remover or alcohol on a cotton pad.
4.  When applying color do two thin coats, letting them dry in between each coat.
5.  When applying a top coat, apply it also on the top of the nail tips, the part that chips first.  Reapplying  your top coat every day or every other day is also a good idea for making your manicure last.  A top coat's purpose it to seal your polish on.
6.  Limit water or the use of harsh chemicials on hand and nails. Using gloves whenever possible is extremely important, for me it makes all the difference.  If your hands has to be in water, always apply hand cream after just to moisten the area, to keep nail and skin from drying.
7.  When using your hands, do not use your nails as tools.  Don't overuse or abuse your nails.  Try using your finger tips or pads instead of your nails.
8.  Use a cuticle cream or oil daily moisturizing the cuticle and the nails.  This oil or cream keeps nails from drying and cracking similar to how it protects your nails from cracking.  It keeps polish pliable so it doesn't chip.
9.  Don't use old nail polish or polishes that have been thinned out to prolong it, they will not be long lasting on nails.
10.  Polishes that have frost in it does tend to last longer on nails.  Also I notice those glitter polishes that go over other polishes are great to add for a longer lasting manicure.
Using "Making your Manicure Last" Tips…..
This is a typical week of my manicure and how long it lasts……. Generally on a good week, following all my tips listed above….my manicure would last up to 6-7 days which is amazing. (luv,luv)  By the 6th or 7th day, most times I am tired of the color and want desperately to change it.  So, sometimes it doesn't even have to chip before I change it.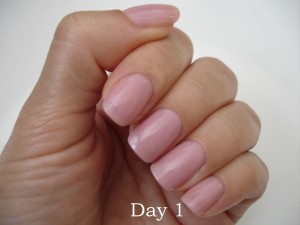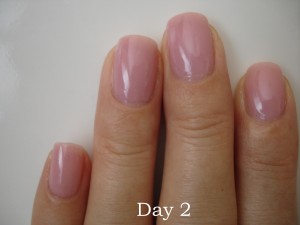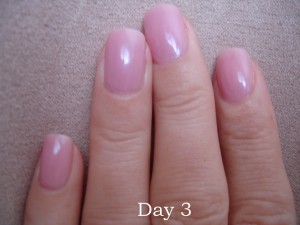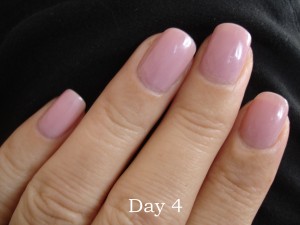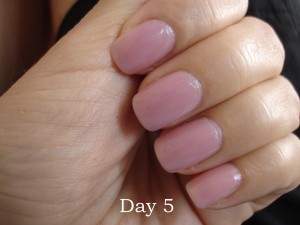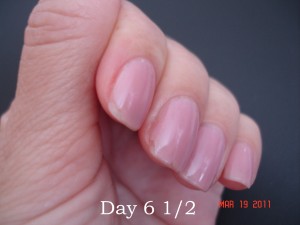 See on day 6 1/2, my nails are only starting to chip.  I will share with you my favorite base and top coat I use, and the other products I use included with these tips to making your manicure last.  Links to posts will be below.
Find more  Girl Accessories Online…..