Infiniti Pro Hair Dryer Review
Infiniti Pro Hair Dryer by Conair
Recently my hair dryer just stopped and wouldn't go back on.  It had it's last day and I thought …oh well, time for a new one.  I wasn't in love with it so It was definitely a good time to find one that I loved.  Usually I wouldn't put much thought into a purchase of a hair dryer, but now, there are so many options and information out there, you would be a fool if you didn't do a little research before you bought anything. You can now get good deals for products that are darn good. So the research began.  This was a light research, nothing serious…just a hair dryer, right?…
So these are the qualities that I wanted in my hair dryer…..
–lightweight so I can hold the hair dryer up without my arms getting all  numb
–high powered(higher speed in air flow) so I can blow dry my hair in less  time(less time, less damage)
–high heat  my hair is thick and needs the higher heat to straighten and  tame my frizzies, It takes high heat to straighten and reconstruct the hair   from frizzy to straight(high heat is the key, & a good round brush)
–not too loud for obvious reasons
–true cold shot this features just closes the hair bonds in it's new form  after it's been blown dried straight holding it's new shape
–attachments for the concentrated heat, I use these attachments that  concentrate the air flow and heat in the specific area when styling hair with a round brush                                                                                           –
–a good price of course because I'm always on a budget
So this is what I found and bought….. The Infiniti Pro Hair dryer by Conair
The Infiniti Pro Hair dryer model 259 by Conair had all the qualities that I was looking for and more.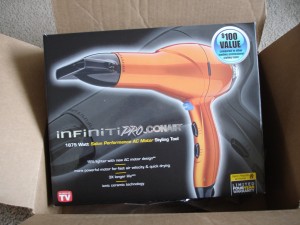 Infiniti Pro Hair dryer by Conair features…
(features claimed by the company)
-powerful 1875 watt Ac motor creating high airflow for quick drying and minimum exposure to heat
-ac motor lasts longer than a standard dc motor
-lightweight for ease of use
-quiet motor
-removable filter to prevent lint buildup extending the life of your hair dryer
-tourmaline ceramic technology which emits natural ions for static free hair and reduces damage to the hair shaft
-ion technology helps enhance hair's natural shine and eliminate frizz, creating smooth results
-three heat settings hot, warm and cool and two speed settings, high and low. You can customized heat and speed settings to your hair type.
-two attachments included that aids in straightening small sections of hair called concentrators
-backed by a four-year warranty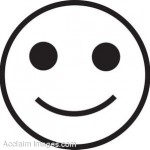 Good Reviews
Powerful Hair dryer with high heat temperature, high air flow and the highest wattage.
The options in the heat and temperature setting are nice for the different hair types.
The ionic and tourmaline technology helps with the health of your hair and getting the straight, smooth and shiny look.
Four year warranty.
Price is good for the product you get.($25 and under)
Bad Reviews
The one bad review that keeps popping up is that it is heavy for being called lightweight and
-it's not whisper soft as it claims
-the cool shot button air is not cool
-the control buttons are on the handle where you hold the hair dryer and you accidentically change the settings
My Review on the Infiniti Pro Hair dryer
The Infiniti Pro Hair Dryer by Conair did meet all my qualities I was looking for in a good hair dryer, the ones that were most important to me.
I really did not notice that it was heavy at all, to be honest.  It wasn't as soft as a whisper, but it was softer that my last hairdryer.  And the cool shot button does work, just give it a couple seconds.  The buttons, I did notice I did accidentally changed the setting but that didn't matter to me much.
A feature that is nice is that you can remove the filters and clean the lint out.  I think thats what killed all my previous hair dryers.  I would try to clean the lint but could never do it effectively.  So I hope this feature will prolong the life of this  Infiniti Pro hair dryer.
I wanted a high powered, high heat, and quality hair dryer that could straighten my hair and tame my frizzies and it does that.  A professional high powered product at this price is great!(the price runs about $25 and under)