L'oreal Lineur Intense Liquid Eyeliner
L'oreal Lineur Intense Liquid Eyeliner

L'oreal Lineur Intense Felt Tip Liquid Eyeliner in carbon black is a great eyeliner.  It is a drugstore eyeliner which runs  about $8-9.  It is one of my top picks for a liquid eyeliner overall in both department stores and drugstore.  I find it comparable to Lancome's Artliners, which runs about $29.  If you are looking for a more affordable option, this eyeliner really delivers.  I've been looking for a dupe and this is it.

There are many good features about this product but what I find is it's best feature is its ease of use.  The applicator is just like a  pen, so you can hold it well and get a good line, like your drawing. The felt tip on the applicator makes the liquid glide on smoothly, creating nice and smooth lines.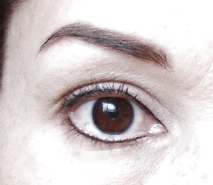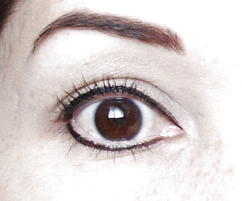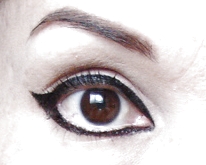 (image above……light, medium and a heavy line)
Using the L'oreal Lineur Intense Liquid Eyeliner you can get a versatility of line thickness which is great. You can get a thin line for an everyday look or a thicker line for a more dramatic look.  You can play and get real creative like creating the cat eye look, which I love to do.
Lining the eye to create a finer line, you need to use just the tip of the applicator using a soft even stroke right up against the lash line.  You may even need to wipe your applicator off a little before you start to get off extra eyeliner color.
To create a medium to thicker line use the side of the applicator lining the eye with a little pressure.  As you are gliding the applicator pressing down gently.  You may need to go over the line to get a darker line.  For an even thicker line go over a couple times building on the first line.
TIP:  If you need a steadier hand, a makeup artist tip is to use a support under your hand that is lining the eye.  On myself,  if I need it I would use my opposite hand.  I place my loosely closed fist on my cheek and let my lining hand rest on my hand and that would create  a steadier hand.  When I am working on someone else I would use my makeup flat puff to rest my hands on.  A  little support is all you need for a steadier hand for a straighrter line.
Another good feature with the L'oreal Lineur Intense Liquid Eyeliner is that it stays on all day,  it doesn't flake or crack AND it can be removed so easily.  If I make the line too thick, I just take a wet Q-tip and swipe over the edge and thin out my line.  It works like a charm.
Find Girl Accessories Online…..