Orly Bonder Rubberized Basecoat
Orly Bonder Rubberized Basecoat really works!
The Orly Bonder Rubberized Basecoat Is my new and favorite basecoat.  It really works well.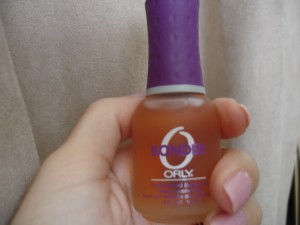 On the box it says… Bonder, a unique rubberized basecoat, grips lacquer to the nail surface for lasting adhesion.  Prevents nail laquer from wearing off for up to two weeks. 
Okay, I agree with everything it says on the box except..nail lacquer lasting up to two weeks.  That would be stretching it  a bit.  I would say the longest my nails lasted was a little over 7 days, maybe at the most a week and a half.  And that's GREAT! I Love that!  Believe me I don't need two weeks, by then I would be tired of the color and trying to chip it, so I can change it.
When you put on Orly Bonder Rubberized Basecoat, it's like a liquid, very thin but when it dries, you can feel it has a slight sticky feel to it.  I'm guessing that's the rubberized mechanism they are talking about.  That's what makes this basecoat different from others.  Others are just a clear polish, just protecting the nail and nothing else.
Being in the beauty industry, I never used a base coat. I think because I was just using the wrong type of base coat and just generalized that they all were the same and really wasn't even worth using.  So I thought why spend the time or the money.  BUT, believe me, I am shoicked by the difference  Orly Bonder Rubberized Basecoat really makes!  I am a believer now! …that you should use a base coat and a top coat, if you want great results.  It is an important step in making your manicure last. One step I will not leave out again!