Rimmel London Nail Polish in Steel Gray
Rimmel London Nail Polish in Steel Gray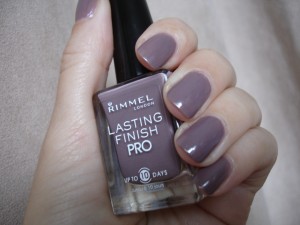 This is Rimmel London nail polish in steel gray.This is my new color for this week.  I try to change my nail color every week with breaks in between, to give my nails a rest. So far,  I like this color, I like the formula.
The brush is different for me.  It's the first time using Rimmel nail polish.  The brush is wider, so I was trying to figure what was the best way to use it to get the best results.  For one, you need less strokes because the brushes is so wide. So I think two strokes on each nail, one on each side of the nail making sure the sides get polished- works best.  Then on my second coat I just do one wide stroke down the middle.  I do like that the brush has rounded edges since our nails are round at the base and you can get really up close to the cuticles,  that makes sense to me.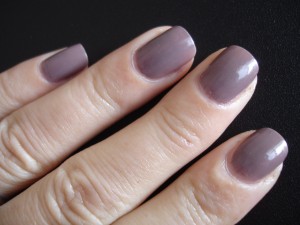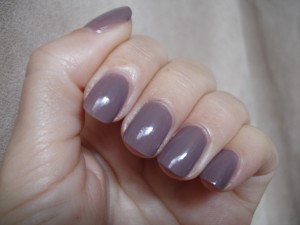 The color is steel gray, but to me it looks more like a deep pastel purple. OR I know what it looks like…..Poi, does anyone know what that is?  You know hawaiian poi.  If you haven't grown up in Hawaii, maybe you tried it at a luau in Hawaii.  It's taro made into a  paste like consistency…anyway I'm digressing.  The color is  nice but some of the pictures online are deceiving, I wanted more of a steel gray, but this color is nice too. Oh well!  Sometimes you find a new favorite by accident.