The Bobbi Brown Beauty book
The Bobbi Brown Beauty Book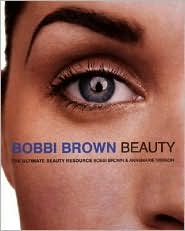 The Bobbi Brown Beauty book was not my first makeup book, but probably the first makeup book that I read from cover to cover.  This book has beautifully artistic photographs and the contents is well written with a lot of helpful tips and infomation on everything makeup. The book starts off with Bobbi Brown's background,  how she came from humble beginnings of  having  just a listick line to a well respected and well knowned makeup artist to the stars.  Later she wanted more out of the makeup she used on the stars and models, this is when she  formulated her own makeup line starting with 10 lipsticks.
Now Bobbi Brown's makeup line, which includes everything  from a skincare line to the best makeup colors and tools is world renowned and well loved by all.  Her makeup line was best known for the yellow based foundation which looked more like real skin.  Everything in her makeup line was brown based which was very wearable and suited for majority of  women everywhere.
The book goes into details on makeup organization, tools, and makeup application which is why this book is a must. It covers everything about foundation, eyes, lips, and blush. Then as a plus it goes into different makeup for different occasions, makeup for different ethnicities and different ages.  What I also like about this book is that Bobbi Brown shares her stories and experiences she has had with the many celebrities she has worked on.
Another good book on makeup is "The Art of Makeup" by Kevin Aucoin